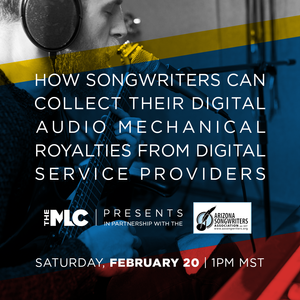 ASA ZOOM MEETING! 
3rd SATURDAY WORKSHOP 
February 20, 2021, at 1pm MST 
_________________________________ 
** YOU MUST RSVP TO GET THE ZOOM MEETING LINK! ** 
RSVP: Jon@IgerMusic.com 
The February 20 Saturday Workshop will start at 1pm. 
SPECIAL PRESENTATION FOR FEBRUARY MEETING! 
The MECHANICAL LICENSING COLLECTIVE 
"YOUR ROYALTIES IN THE DIGITAL AGE" 
with SPECIAL GUEST, MAURICE RUSSELL 
MLC HEAD OF RIGHTS MANAGEMENT
**MLC PRESENTATION and Q&A:  1pm - 2pm** 
**The Mechanical Licensing Collective was designated by the United States Copyright Office, and created by U.S. music publishers and songwriters (backed by the National Music Publishers' Association, the Nashville Songwriters Association International and the Songwriters of North America), as a new entity to license and administer rights under the Music Modernization Act which was signed into law in 2018. The law ensures that the mechanical rights of songwriters and music publishers are properly licensed and royalties fully paid by digital services, and it improves how those royalty rates are determined. It also establishes a publicly accessible mechanical rights database 
to ensure accurate, transparent copyright ownership information. 
(From the article, "Mechanical Licensing Collective Names Kris Ahrend As Ceo", written by Jessica Nicholson 
that appeared in MusicRow, January 15, 2020.) 
  
Randy Brown and Jon Iger will be hosting the meeting.  
            
Randy and Jon have taught songwriting at the MIM 
(Musical Instrument Museum), and have had songs placed 
in many movies and TV shows. Jon has also had major label cuts 
on MCA and Capitol Records.  
___________________________ 
**   ZOOM CRITIQUES: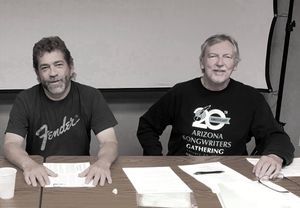 **Zoom Critiques of "Songs in Progress" will begin after MLC Presentation and go until about 3:30pm 
(We'll get to as many songs as time permits.) 
  
To submit a song for critique, go to:  Chelseaslinks.com/asa 
*Your song should be on: dropbox, soundcloud, or youtube. 
**GOOGLE DRIVE HAS BEEN REMOVED BECAUSE IT WAS NOT WORKING WELL! 
*Lyrics are mandatory: You can copy/paste or type your lyrics in the comments at http://Chelseaslinks.com/asa 
_____________________________ 
Chelsea Robson will be facilitating the meeting again.  
We've had a record number of writers attend our Zoom meetings! 
We hope you can join us this month for another great session! 
  
To participate, you'll need to download the Zoom app at https://zoom.us/download 
 on your computer, cell phone or iPad. 
   
SIGN-IN DETAILS for February 20 Zoom meeting! 
The day of the event, please sign-in a few minutes early prior to 1pm so we can all be ready to go.   
**Very Important:  Be sure to keep your microphone muted unless you are speaking to the group. 
If the microphone is not muted it will cause feedback.  
**There is no charge to participate in the Zoom Meetings**